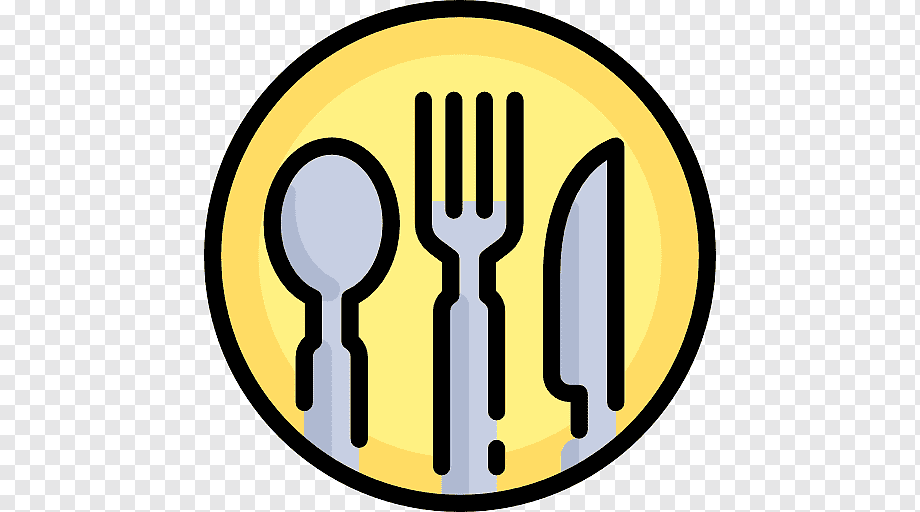 Wild Thyme Restaurant is a cozy yet elegant garden view restaurant located near the Harbour Bay Shopping Plaza on East Bay Street. Serving fresh and imaginative dishes like Organic Field Green Salad, Shrimp & Grits, Curry Goat Tacos, Blue Crab Ravioli, Spinach & Ricotta Pasta, Mushroom Burger, Beef Short Rib Grilled Cheese and much more - there's something for everyone from vegan to carnivore. Try their delightfully decadent desserts and their Thyme Mixology cocktails and mocktails. 
You can check out their full menu at 
www.wildthyme-bahamas.com
#33 East Bay Street / Ph: (242) 393-4107 or (242) 393-4108
Hours
Monday to Saturday
Lunch
12:00pm to 3:00pm
Dinner
6:00pm to 10:00pm
Bar
12:00pm to Close
Sundays
Closed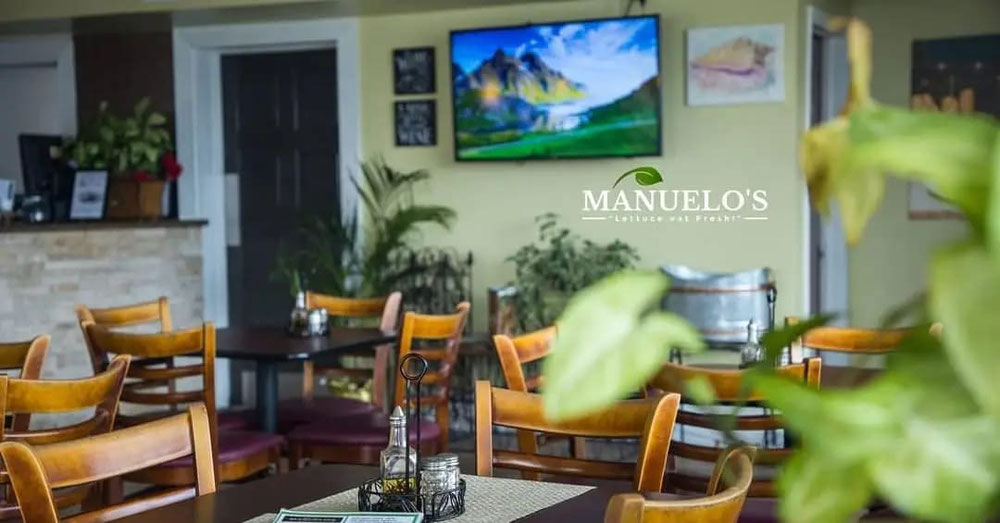 Manuelos is definitely one of my favorite restaurants. They specialize in delicious innovative meal options that taste and feel like comfort food but with a healthy flair. A few go to options include the Curry Chicken Burger, Chicken & Waffles, Lamb Burger, Vegan Hummus Wraps and you'll definitely enjoy their fresh juices! Each meal is served with cassava chips and a beautifully colorful salad. 
Open Monday - Thursday 11:00am to 8:00pm
& Friday - Saturday 11:00am to 10:00pm
Open on Sundays 11:00am - 6:00pm
Phone: (242) 394-3663
Located in the Circle Palm Mall Plaza on Soldier Road where it connects to Village Road.

Latitudes is a waterfront dining experience located at the Nassau Harbor Club near Paradise Island bridge and across from Harbour Bay Shopping Plaza. Guests of Latitudes enjoy spectacular views over Nassau's picturesque harbor and a varied menu that offers both local and international cuisine, including seafood, freshly made pizzas, sushi and teppanyaki.
Vegan/Vegetarian options are available and they also serve Ramen!   \ (•◡•) /
They are Open for reservations Monday to Sunday 10:30AM - 4:00PM & 6:30PM - 10:30PM
www.titanhospitalitygroup.com/latitudes
Email: latitudesinfo@titan.bs
Phone: (242) 676-8025

This Japanese inspired cuisine offers a colorful dining experience while combining fresh flavors and ingredients of The Bahamas. Savor appetizers from the sushi, sashimi, yakitori and grill options before choosing from a variety of seafood, vegetarian, chicken and steak dishes. Chef's Choice sushi sampler and bento box specials are a local lunch favorite. Try the tempura guava duff with ice cream and other desserts for a sweet treat. Located within walking distance of the Harbour Bay Shopping Plaza.
Phone: 242-394-1706
www.seafrontsushibahamas.com
Open for Lunch Monday - Friday 
12:00pm to 4:00pm
& Dinner Monday - Saturday 6:00pm to 10:00pm
(Usually open until 11:00pm Fridays & Saturdays but call ahead to confirm closing time just in case.)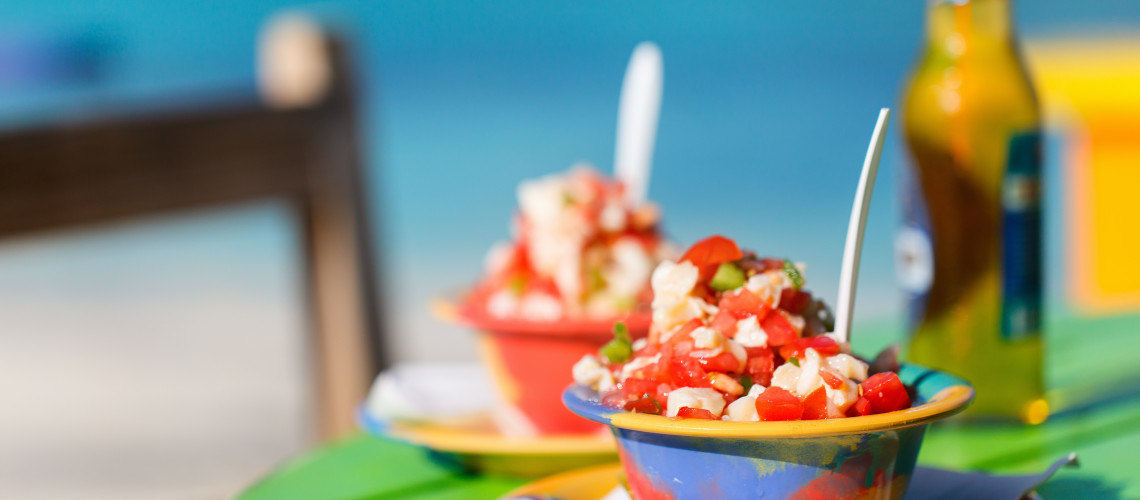 Located off West Bay Street within walking distance of Junkanoo Beach and Downtown, is Arawak Cay, a collection of tropical eateries and island vibes also called "Da Fish Fry" by residents.
Experience authentic Bahamian down home cooking at these cozy indoor/outdoor eateries. Providing flavorful Bahamian food, they offer reasonable prices, and hefty servings. This location is the number one choice if you want to try some of our local Bahamian favorites!
I go to DRIFTERS for my Tropical Conch Salad & Sky Juice (an island cocktail of gin and coconut cream with aromatic spices poured over ice), 
then do the Jack Sparrow walk a few stalls over to OH ANDROS for hot savory Conch Fritters, Crack Conch, and local sides like peas n' rice, baked macaroni and more. 
Open for lunch & dinner seven days a week, 12:00pm to 10:00pm.
Phone: 242-603-3474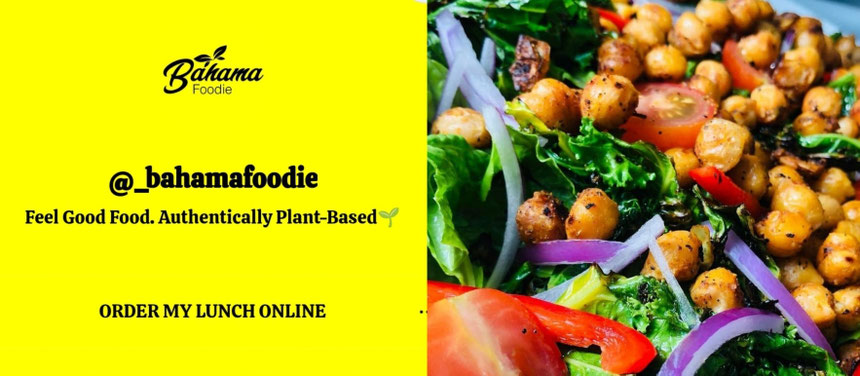 This local vegan restaurant is a bit remote in terms of location, and not fancy - but they specialize in vegan meals with no msg, animal or dairy products. 
Our favorites are the Mushroom Burger, Vegan Wrap, Vegan Crack Chicken or Conch, Corn Mushroom Fritters and their Vegan Patties. Their soups are rich, served with homeade Bahamian Johnny Cake vegan style, and you'll love their homemade Ginger & Cucumber Lemonades! If you're strong of heart and the force is with you like Star Wars, they make a natural immune booster tonic from medicinal bitter herbs. So if you want fresh tasty vegan food you can order ahead of time and pickup, or get your order in before 12pm and they can deliver to your location for a small fee.
Located East Street South, two doors past Porky's Gas Station and opposite Phoenix Food Store
Ph: (242)376-5010 or (242)465-5332
Email uptownveggiedelights@gmail.com
Hours
Monday to Thursday
11:30am to 6:00pm
Friday
11:30am to 5:00pm
Saturday & Sunday
Closed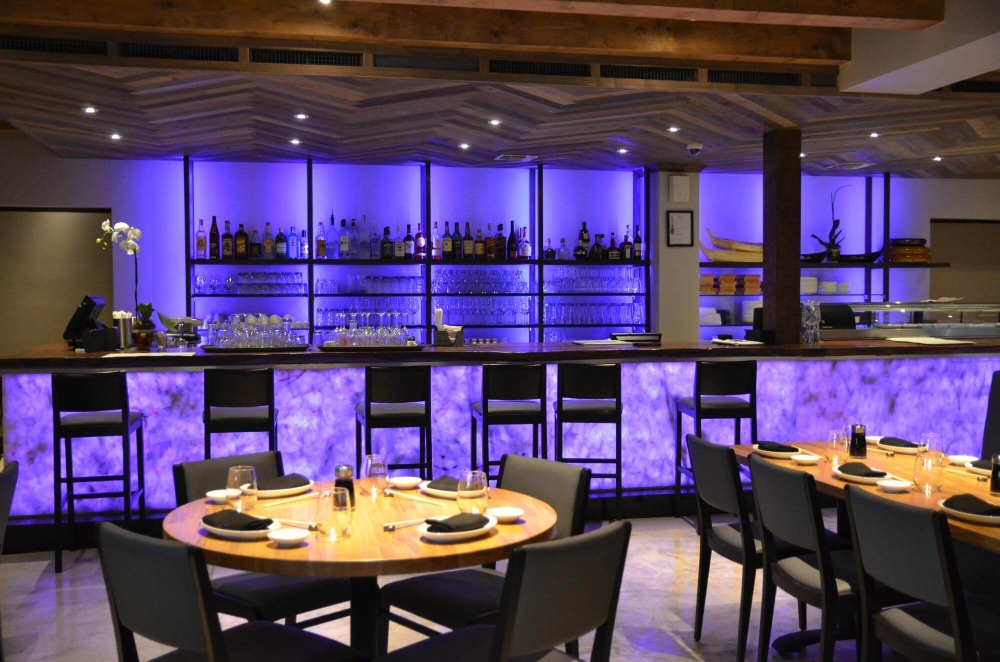 Social House Sushi Grill is located in the Cable Beach area next to Starbucks, and a great choice for any occasion. There is always a savvy atmosphere and the food is creative, delicious, and full of flavor. With a variety of culinary & liquid creations like a plantain sushi roll, spicy cauliflower tempura, conch sashimi, passionfruit saki, lychee cocktail and so much more - you're sure to leave with your stomach full and delighted.
Let your waiter know you're Vegan/ Vegetarian and they'll recommend the best options for you, or whip up something special in the kitchen. One of my definite favorite spots! Reservations are recommended for dinner.
www.socialhousebahamas.com
- HOURS -
Mon. - Thu:
11:30am - 3:00pm 
 6:00pm - 10:00pm 
Friday:
11:30am - 3:00pm
 6:00pm - 10:30pm
Saturday:
11:30am - 4:00pm
 6:00pm - 10:30pm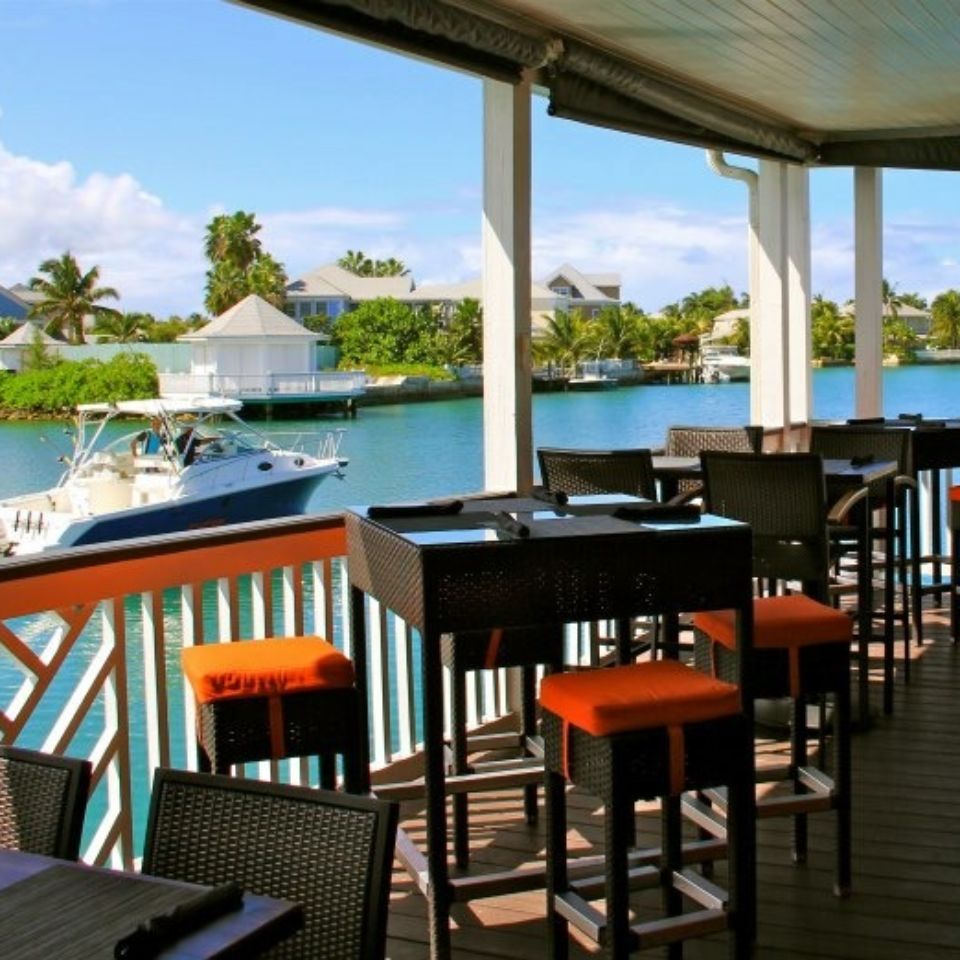 Located on the waterfront at the back of Sandyport Shopping Plaza, this is a great choice for lunch or dinner if you're staying near Cable Beach. 
If you love homemade burgers the Big Sexy Burger is large and delicious with all the trappings including a fried egg on top. Shrimp Tacos, Lobster Mac & Cheese, Homemade Pizza, Asian Sesame & Guava Barbecue Wings, Quesadillas, Mojitos & Daiquiris - there is sooo much good food at this location! You can eat at the bar and watch your favorite sport game, have a romantic meal overlooking the canal with your boo thang, grab takeout to devour at home in your pajamas, or order delivery via one of the Nassau based food delivery apps.
Open Everyday 11:00am to Midnight 
Phone :  (242) 327-0061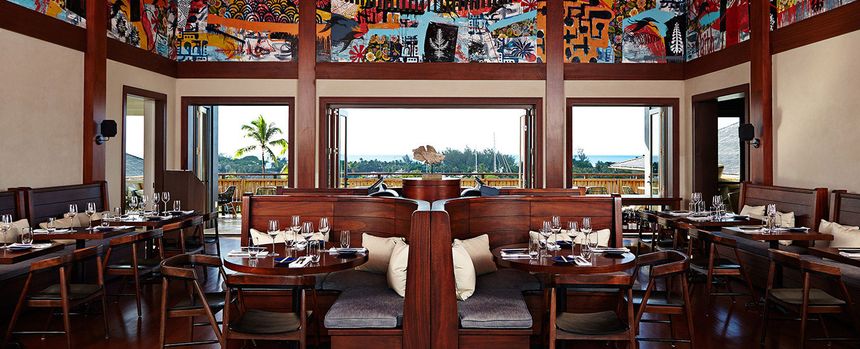 "The delicate, aromatic flavors of Thailand, Vietnam and Indonesia take center stage at this stunning rooftop retreat. 
Guests may choose to dine in the comfort of the main dining room, the secluded 8-seat sushi bar or on the expansive terrace, where they can take in the sweeping views of Lyford Cay Marina and the crystal blue waters beyond. 
Another terrace features Bar Shima, a lounge that overlooks the pool and offers inventive cocktails and a world-class wine list." 
visit the website to make Reservations.
www.the-island house.com/DINING/1/SHIMA
Open for DINNER Tuesday - sunday
5:00pm to 10:00pm
Brunch life Saturday & Sunday
11:00Am to 3:00pm
BAHA MAR GRAND HYATT
BAHA MAR SLS
BREEZES🍹
🌴 PALM CAY 🌴
ATLANTIS ROYAL TOWERS
ATLANTIS CORAL TOWERS
ATLANTIS HARBORSIDE
ATLANTIS THE COVE 🐠
ATLANTIS THE REEF
ATLANTIS MARINA
GOLDWYNN
ONE CABLE BEACH 🌅
COMFORT SUITES
THE WARWICK HOTEL
MARGARITAVILLE 🍹
BAY STREET MARINA
THE ISLAND HOUSE