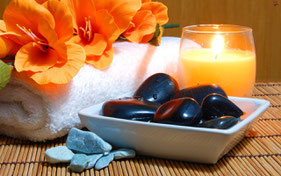 Enter a realm of relaxation as the tensions of the moment drift away...

Allow us to set up the massage table, light a candle and create an atmosphere of serenity within your home, office or vacation retreat. Treatments include music, candles and hot towels for an ultimately relaxing experience at your convenience. Treat Yourself Well.
BOOK ONLINE   OR   CALL (242)438-3932 TO SCHEDULE AN APPOINTMENT
The Benefits Of Massage Therapy:


Enhance sleep quality.

Increase energy.

Improve concentration.

Reduce fatigue.
Alleviate low-back pain and improve range of motion.

Ease medication dependence.

Enhance immunity by stimulating lymph flow—the body's natural defense system.

Improve the condition of the body's largest organ—the skin.

Exercise and stretch weak or tight muscles.

Help athletes of any level prepare for, and recover from, strenuous workouts.

Relax and soften injured, tired, and overused muscles.

Increase joint flexibility.

Promote tissue regeneration.

Pump oxygen and nutrients into tissues and vital organs, improving circulation.

Reduce spasms and cramping.

Release endorphins—amino acids that work as the body's natural painkiller.

Relieve migraine pain.
Arthritis sufferers note fewer aches and less stiffness and pain.
Asthmatics show improved pulmonary function and increased peak air flow.

High blood pressure patients demonstrate lower diastolic blood pressure, anxiety, and stress hormones.

Premenstrual syndrome sufferers have decreased water retention and cramping.
Copyright © 2017 Wellness Spa Bahamas. All rights reserved.